You and the Night and the Music CONFIRMS RYAN's STATUS AS ONE OF THE OUTSTANDING JAZZ VOCALISTS OF HER GENERATION AND, QUITE POSSIBLY, OF ALL TIME. She is the thoroughbred vocal equivalent of the Triple Crown, rivaling the dexterous sass of Sarah Vaughan, the instinctive smarts of Carmen McRae and the scintillating verve of Diana Krall.

Christopher Loudon
JAZZTIMES
---
"I've been immersed in the music business, notably with singers (Nat Cole, Peggy Lee, Sarah Vaughan, etc.) for almost 60 years, so I consider myself a good judge of the arena and the people who inhabit it.
To anyone who really listens, it becomes immediately apparent that Jackie Ryan ranks very high among all other present day singers - no matter what the category to which they belong - and that she's probably the most skilled.
She draws out the very essence of a song just by singing the lyrics and the notes with unadorned sincerity. She makes every song fresh and full-faced, as if each were important news. She's never strident or over-expressive, and always completely locked into the spirit of the song.
with Dick LaPalm
Like Lady Day, Sassy, Peggy, Carmen, and only a few others, Jackie makes everything she sings matter. There's an intimacy between herself and whoever is listening. You can play her cds in the privacy of your bedroom, or hear her in a concert hall. Either way, it's always the same; a one-on-one experience. It's as if she's sharing a secret with only you. And you'll believe every word.
There's nothing I can praise about her singing and performance that doesn't, in some way, sell her short. Jackie Ryan is, quite simply, an extraordinarily gifted artist with her own unmistakable identity."

Dick LaPalm
Legendary record promoter aka 'The Jazz Lobbyist'
Previously Nat King Cole's Manager, whose clients included Sarah Vaughan, Count Basie, Sonny Rollins, Steely Dan, and many others.
---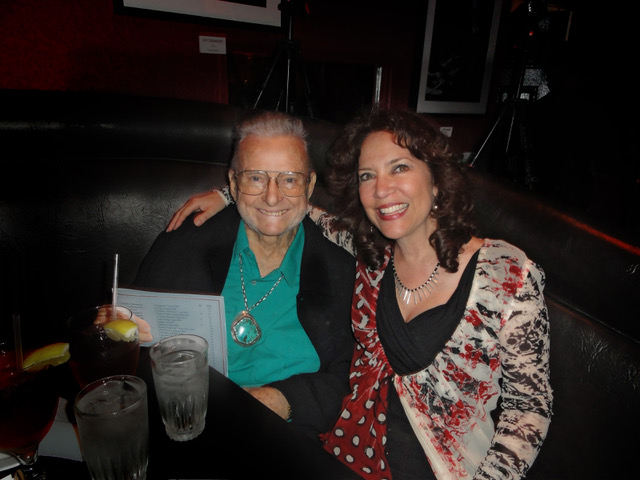 with Ed Shaughnessy
Dear Jackie....
Having been the personal drummer for Ella F, Billie Holiday, Peggy Lee, Lena Horne, & Carmen McRae among others, it takes a lot to thrill me... but U did!!
I bought "Listen Here" & was trans fixed by it.

Ed Shaughnessy
Held the prestigious position of House Drummer
for 29 years on Johnny Carson's "Tonight Show"
---

with Clark Terry
"...a true jazz singer - and a damn good one, too! I've had the pleasure of concertizing with her so I know. Be sure to give a good listen to this CD, and when you have a chance to catch her in person - do it!"

Clark Terry
Renowned trumpet master
Count Basie and Duke Ellington Orchestras



---
"I had the pleasure of working with Jackie Ryan and she really knocked me out every time she sang. If you want to hear somebody with good pipes, good time, good feeling, good sound, good intonation and can swing - listen to Jackie Ryan."

Terry Gibbs



---
"One of the best singers to sing at Ronnie's since Shirley Horn."

John Massarik
(Review of performance at Ronnie Scott's Jazz Club)
The Evening Standard
London, May 2001



---
with Jon Hendricks
"'It's Jackie!'. . . which means: it's sparklin' and swingin' - like good Jazz singin."

Jon Hendricks
Legendary vocalese master



---
"One loves to hear a great singer - especially one with style, control, pitch and a wonderful sense of rhythm. Jackie Ryan is one of those rare talents - she has it all, plus beauty. I love her sound. She is destined to become a major star."

Teo Macero
Producer of Miles Davis' "Bitches Brew" and Dave Brubeck's "Time Out" (Columbia Records)



---
"A real discovery of a singer - a theatrical, spontaneous and technically immaculate American with a Betty Carter flavour called Jackie Ryan... We'll be hearing from her."

John Fordham
Jazz critic, The London Guardian
Review of week-long appearance at Ronnie Scott's Club
Author of "Jazz","The Story of Ronnie Scott's" and "Shooting From The Hip"



---
"Volition and Vocalese
Jackie Ryan has a wonderful voice. But on her Passion Flower, she also has a wonderful way with her pen. This is evident because she decided to take a song by the great tenor saxophonist, Joe Henderson, called "The Kicker" and write lyrics to it, and did she ever! Ms. Ryan is one of the new emerging singers in the jazz idiom that deserves wider recognition. Besides her unbelievable take on "The Kicker" you can hear Ms. Ryan deliver her stylistic stamp on such classics as "Lullaby of The Leaves", "Some Other Spring" and "Serenade in Blue". Keep an eye on Jackie Ryan because she will continue to emerge and surprise!"

Nathan Holloway
AllAboutJazz.com 2005
---
"EXTRAORDINARY IS THE WORD! . . . A WORLD CLASS TALENT. Jazz singing at its very best."
Don Heckman
The Los Angeles Times
---
"EXTRAVAGANTLY GIFTED! . . . Astonishing range - both emotionally and stylistically. A TRUE JAZZ ORIGINAL."
Andrew Gilbert
Jazz critic
Downbeat, The Boston Globe
---
"SWEEPING VOCAL POWERS. . . A real discovery of a singer. . . Jackie Ryan's chemistry of passion is truly sensational."
John Fordham
The London Guardian
---
"The fiery multilingual Ryan is MIGHTILY IMPRESSIVE!"
Christopher Loudon Jazz Times
---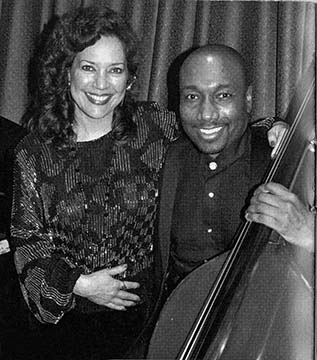 with Jeff Chambers
"SINGING FROM THE HEART. . . Jackie bridges gaps between both geography and generations!"
Steven Graybow
Billboard
---
"DEFTLY ASSURED! Savvy interpretive jazz vocalizing."
Variety
---
"SUPERB! The bell-like resonance of her smokey voice coupled with her heartfelt emotion. . . puts Jackie at the top of her game."
Jesse Varela
Latin Beat
---
"Listen to Jackie Ryan's voice and consider this: how important is it to you that vocal jazz come from the heart? Ryan's latest release proves that nothing works better on your soul than the real thing....a charm seldom seen in today's crowded singers' market. She's genuine."
Jim Santella
ALLABOUTJAZZ.COM
home | biography | quotes | reviews | concert dates | discography | contact | facebook | press photos