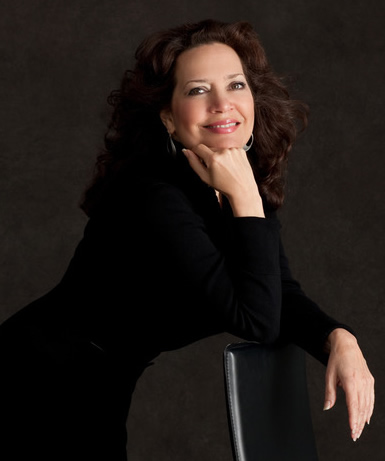 Jackie Ryan "is one of the outstanding jazz vocalists of her generation...She is the thoroughbred vocal equivalent of the Triple Crown, rivaling the dexterous sass of Sarah Vaughan, the instinctive smarts of Carmen McRae and the scintillating verve of Diana Krall." - Christopher Loudon, Jazz Times
Jackie Ryan was born in the San Francisco Bay Area to a Mexican mother and an Irish father, who were both professional singers in their youth, and therefore grew up in a home that was naturally full of music. Her father was a classically trained baritone and her mother sang in the Teatro Degollado in Guadalajara.
She started singing at the age of four and performing onstage professionally at the age of 15. She sings in several languages, and her versatility in styles ranging from belting out the blues to Jazz Bebop; to the delicate Portuguese language nuances of Brazilian Bossa Novas and rhythmic Sambas, to romantic boleros sung in Spanish; to the emotive ballads and vibrant swing standards of The Great American Songbook, have won the hearts of audiences worldwide.
"Extraordinary is the word!" --- Don Heckman; The Los Angeles Times.
She has performed, recorded and/or toured with the top jazz instrumentalists in the world, including Clark Terry, Toots Thielemans, The Jeff Hamilton Trio, John Clayton, Terry Gibbs, Jon Hendricks, Buddy DeFranco, Mike Wofford, Jon Mayer, Larry Vuckovich, Shelly Berg, Amina Figarova, Roy McCurdy, Gerald Clayton, Eric Alexander, Cyrus Chestnut, and Paquito D'Rivera to name a few.
Each of Jackie's CDs have been in the top of the Jazzweek national radio tracking chart, as well as her most recent three back to back # 1 CDs, which stayed in the number one position for several weeks each.
Her most recent recording "Recuerdos De Mi Madre", dedicated to her mother, debuted at #1 on the International Adult Contemporary streaming chart, PlayMPE.
"I heard Herbie Hancock say that Jazz is something very difficult to describe, but very easy to recognize, and Jackie Ryan is that kind of vocalist that anything she sings, the spirit of Jazz comes out, and in its most elegant and creative form." -- Paquito D'Rivera
She has performed internationally in clubs throughout Europe: 8 years a regular at the famed Ronnie Scott's Jazz Club in London, Amsterdam, Spain, Germany, Japan, New Zealand, and Australia, to sold-out appearances at New York's Jazz at Lincoln Center Dizzy's Club and Birdland, the Bay Area's SFJAZZ Miner Auditorium; and Yoshi's, and well as many major jazz festivals from Telluride to The Lionel Hampton Jazz Festival.
Her live shows have been described by the critics as 'magnificent, 'gripping' and 'extraordinary', and consistently leave audiences in standing ovations and encores. She is a natural born entertainer with that rare ability to reach out and touch each and every heart, no matter how large the audience.
"Listen to Jackie Ryan's voice and consider this: how important is it to you that vocal jazz come from the heart? Ryan's latest release proves that nothing works better on your soul than the real thing; a charm seldom seen in today's crowded singers' market. She's genuine."
Jim Santella
ALLABOUTJAZZ.COM