CD Reviews:
"THE MULTI LINGUAL RYAN IS MIGHTILY IMPRESSIVE!"
- JazzTimes
September 2002

San Francisco-based songbird Jackie Ryan has eluded me 'til now. Her debut album, recorded live at Ronnie Scott's, was a U.K.-only release, and her first stateside studio album, For Heaven's Sake, never crossed my radar. If, however, they're anywhere near as formidable as her latest, Passion Flower (OpenArt), I suspect they're worth searching for. The multilingual Ryan, whose roots are a heady mix of Mexican, Irish and French, is mightily impressive. There's an obvious nod to Billie Holiday in her phrasing, but it's clearly more salutatory than imitative. Opening with Holiday's "Now or Never," persuasive in its indulgent urgency, Ryan alternates between Brazilian standards (her Portuguese is impeccable), enduring jazz anthems and somewhat less-familiar gems like the haunting "Some Other Spring" and seductive "Lullaby of the Laves." She serves up a potent "Mood Indigo" that artfully maneuvers between heartfelt melancholy and self-pitying melodrama, spices things up with a sassily irreverent "Please Send Me Someone to Love," then mixes a fragile "A Flower Is a Lovesome Thing" with a robust and fiery "Passion Flower" for a uniquely fulfilling Strayhorn medley. Ryan also proves to be an insightful lyricist. Crafting words to fit Joe Henderson's "The Kicker," she does an admirable job of replicating mentor Jon Hendricks' effervescence while tossing kisses to Elvin Jones, McCoy Tyner, Grant Green and Henderson himself. Even better are the soft, sensual lyrics she's fashioned to complement the twilight hush of Barry Harris' "Deep Love."

- Christopher Loudon
JazzTimes
September 2002



"...LISTENERS WHO APPRECIATE FINE JAZZ SINGING, AS IF IT WERE A BOTTLE OF RARE AND VALUABLE WINE, HAVE TO SEEK OUT RYAN'S RECORDINGS."
- Jazz Improv Magazine, Volume IV
January 2003


"...listeners who appreciate fine jazz singing, as if it were a bottle of rare and valuable wine, have to seek out Ryan's recordings. And on Passion Flower Jackie Ryan herself...unfolds layer upon layer of talent and meaning, revealing itself as she keeps listeners on edge for even more depth with each track."

"...Ryan's adaptability to the emotional centers of the songs on Passion Flower, consisting as they do of a wide range of styles that lesser singers couldn't approach, leaves the impression that we haven't heard the last of Jackie Ryan. Hers is a talent that can't be contained within a single style. Once she is categorized, she breaks into another category, making it clear that Ryan's is a voice that must be appreciated on its own terms. As she becomes better known, Jackie Ryan undoubtedly will continue to reveal, song by song and/or petal by petal, even more the lovesome thing that is her voice."

- Bill Donaldson
Jazz Improv Magazine, Volume IV
January 2003





"JACKIE RYAN PROVES SHE'S A WORLD CLASS TALENT ON 'PASSION FLOWER'...Ryan's Mexican-Irish-French heritage has blessed her with an abundant stylistic range... That range is fully evident in her musically insightful renderings of songs ranging from Antonio Carlos Jobim's "Luiza" and Percy Mayfield's "Please Send Me Someone to Love" to Duke Ellington's "Mood Indigo" and Carlos Almaran's "Historia de Un Amor."

- Don Heckman Jazz Reviewer,The Los Angeles Times.



"ONE OF THE BEST VOCAL ALBUMS OF 2002"
Coming from the San Francisco area which simply teems with good singers, comes the second CD of the very good Jackie Ryan and her first for the OpenArt label. Filled with emotional intensity falling somewhere between a not so exaggerated Betty Carter and a somewhat cooler Carmen McRae, Ryan applies her vocal virtuosity to a play list of 14 tunes, some familiar, some not, representing a wide spectrum of vocal opportunities. Running the gamut from "Mood Indigo" to a wild Vocalese version of Joe Henderson's "The Kicker", with words added by Ryan, the listener gets the full sensation of Ryan's deep, rich and lyric sensitive alto. Ryan adds a fresh coat of burnish to "I Don't Want to Cry Anymore" getting lots of help from the soulful trumpet of Allen Smith. Smith also adds muted horn on a swinging "Now or Never" trading fours with Noel Jewkes's tenor. With its good vocalizing and top rank instrumental support, one senses this is the way Ivie Anderson and Duke Ellington might have delivered this tune. Continuing to show her versatility, Ryan takes on "O Silèncio das Estrelas" sung in Portugese and backed with a Brazilian beat provided by Luis Romero. One of the album's prime tracks is another Latin-based tune, "Historia de un Amor" where Ryan combines passionate, bittersweet and hypnotic as her voice takes on an Andalusian flavor. Like the good jazz singer she is, Ryan is not reluctant to tackle any vocal challenge.

With the variety of material on this disc, it's clear Ryan absolutely refuses to be cast as a specialist in just a couple specimens of material. This is the same characteristic that was the trademark of the great singers, from Ethel Waters through Billie Holiday to Ella Fitzgerald, Sarah Vaughan and the like. Special recognition has to be given to Larry Vuckovich whose strong, sympathetic piano accompaniment helps to make this one of the best vocal albums of 2002 so far. Visit Jackie's Internet home at www.jackieryanmusic.com.

- Dave Nathan,www.allaboutjazz.com



"VOCALIST JACKIE RYAN BRIDGES GAPS BETWEEN BOTH GEOGRAPHY AND GENERATIONS ON PASSION FLOWER"
No matter how well-written a song may be, it takes a skilled performer to make the listener believe that they are singing from the heart, drawing them into words and melodies that may have been written only that day or decades ago in a far-removed culture. Drawing material from the classics (Duke Ellington's "Mood Indigo"), the current (Ryan composed lyrics for several tunes, including a vocalese version of Joe Henderson's "The Kicker"), and the lesser-traveled (Antonio Carlos Jobim's infrequently recorded "Luiza"), Ryan paints a picture of her own life through a set of judiciously chosen songs, upping the ante by alternately singing in English, Spanish, and Portuguese. Born of Mexican, Irish, French, and Spanish heritage, Ryan's childhood was enriched both by the Spanish songs sung by her mother and by her Irish father's classically trained baritone. Ryan's interpretation of the Portuguese song "O Silèncio das Estrellas" (The Silence of the Stars) mixes two of her cultural influences by balancing the song's original lyrics with new stanzas that she composed. The singer further references her background by paying tribute to her early mentor, the late vocalese master Eddie Jefferson, on "The Kicker."

- Steven Graybow, BILLBOARD

"IF WE LIVED IN A RATIONAL WORLD, JACKIE RYAN WOULD BE DECLARED A NATIONAL TREASURE"
"One listen to Jackie Ryan's voice takes you back to the World War II era when your grandfather, or maybe your uncles, were off fighting our enemies and the big band style of jazz was still king. Her deep honey rich contralto is the one you could be hearing as you dance at a USO-sponsored shindig in the middle 1940s. I'm talking about the timeless qualities of developing melodies that are faithful to the original, about exhibiting sensitivity and, most of all, about elegance. Each selection on Passion Flower is superb. Ryan is the complete jazz singer. HIGHLY RECOMMENDED. PERFECT FOR THOSE WHO LOVE SUPERIOR SINGING."

- Roger Crane, L.A. Jazz Scene

JACKIE RYAN "Passion Flower"
(OpenArt #OA-0727-2)
Jackie Ryan's Debut Studio Album
Street Release Date: June 25, 2002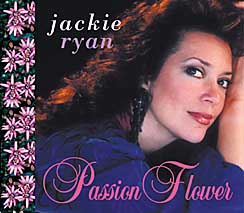 HIGHLIGHTS
Debut studio recording of internationally acclaimed vocalist Jackie Ryan (fresh off an extended engagement at Europe's premier jazz venue, London's Ronnie Scott's Club)


Three Latin songs -- two sung in Portuguese and one in Spanish, reflecting the heart of her Latin heritage


Original lyrics for four songs including vocalese lyrics to Joe Henderson's driving sax solo on "The Kicker" and lyrics to Barry Harris' poignant "Deep Love"


An original powerful jazz composition by Jackie Ryan and David Bass: "Once in Everyone's Life"


A "flower medley" tribute to composer Billy Strayhorn


Additional song selections range from the bluesy "Please Send Me Someone to Love" to the upbeat swinging "Now or Never" and feature (along with classic jazz ballads like "Mood Indigo") such rarely performed gems as Antonio Carlos Jobim's "Luiza" and Beatrice Petkere's "Lullaby of the Leaves"


Song List (Click on title with * for audio clip in MP3 format):
Personnel*
Jackie Ryan (Vocals)
Larry Vuckovich (Piano)
Jeff Chambers (Bass)
Eddie Marshall (Drums)
Allen Smith (Trumpet)
Noel Jewkes (Sax)
Luis Romero (Percussion)
---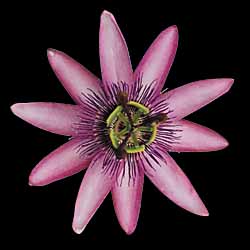 This San Francisco Bay Area singer is a real discovery.
Thanks to the decadelong success of Diana Krall (and, more recently, Jane Monheit), there is a renaissance of women jazz singers these days. Here's a roundup of a few new releases.
Jackie Ryan, Passion Flower (OpenArt Records). This San Francisco Bay Area singer is a real discovery. With a Mexican/Irish heritage that somehow led her to jazz, Ryan blasts out powerful, sexy swing in a compelling, full voice on "Now or Never," then turns on a dime, in Spanish, to a passionate torch song like "Historia de un Amor."
She sings "Mood Indigo" in a loud whisper, digging a deep, slow groove; on "Some Other Spring," she lays behind the beat, then pushes the words with a groan, like Carmen McCrae; Joe Henderson's "The Kicker" receives a snappy new set of vocalese lyrics. Portuguese? No problem. Ryan gives "O Silèncio Das Estrelas" a slow and slinky reading, then sounds like a soul diva on Percy Mayfield's "Please Send Me Someone To Love." Ryan's one to watch.

- By Paul de Barros Seattle Times jazz critic

"PASSION FLOWER IS NOT ONLY TECHNICALLY ADEPT, BUT ENTIRELY HEARTFELT."
Jacqueline Helena Theresa Garcia Ryan wisely chose to trim her name to Jackie Ryan, but her Irish/Mexican heritage (both parents were accomplished vocalists) serves her when she deftly handles Spanish and Portuguese songs amid feisty bebop and swing, plus deep blues and ballads.
Passion Flower is dedicated to Ryan's mom, who passed away when Ryan was 15. It also features a "bouquet" medley of floral Billy Strayhorn themes, and a vocalese version of sax giant Joe Henderson's righteously entitled "The Kicker."
Ryan obviously adores Antonio Carlos Jobim's "Luiza" -- a touching tale of a starry-eyed troubadour and the inevitable unrequited love. Percy Mayfield's "Please Send Me Someone to Love" is appropriately included and lovingly crooned. One color is the operative theme throughout the album, perfectly embodied in "Serenade in Blue" and Duke Ellington's "Mood Indigo." Carlos Almaran's "Historia de un Amor" was a childhood favorite for Ryan as she learned it from her mother's record collection, and the love Ryan feels for her has not dimmed in the slightest.
Closing the collection is Barry Harris' "Deep Love," with Ryan's tender lyrics, wholeheartedly approved by Harris. Passion Flower is not only technically adept, but entirely heartfelt.

- Stacy Meyn, CDNOW.COM

"A MARVELOUS VOICE ! . . . JACKIE RYAN EXUDES STYLE, CLASS, SENSUALITY AND A TRUE KNOWLEDGE OF THE JAZZ IDIOM"
Passion Flower
The 2002 vocal jazz scene shifts back to what it must have been like during Duke Ellington's highly successful residency at the Cotton Club with the debut of Jackie Ryan's Passion Flower. The sultry vocalist debuted with 14 tracks that exude style, class, and sensuality and a true knowledge of the jazz vocals idiom. Ryan has a marvelous voice, and her approach is tasteful, swinging, and heartfelt on her flower-medley tribute to Billy Strayhorn, which she has titled "A Bouquet for Billy." The medley consists of "A Flower Is a Lovesome Thing" and the title track, "Passion Flower." She ponders Strayhorn's classic gems and gives them a new melodic fragrance. She later tackles the supreme mood piece, "Mood Indigo," with a blues flavor, abstract instrumental accompaniment but not with the famous "jungle" style Duke Ellington was known for at the Cotton Club. In addition to the songs from Strayhorn, there are favorites from the international songbook and a mournful cover of Billie Holiday's "Now or Never." "The Kicker," originally written by sax legend Joe Henderson, is just that, and now has new lyrics penned by Jackie Ryan. She also adds poignant English lyrics to the haunting Spanish melody of "O Silencio das Estrellas" and serenades her listeners with languid elongated phrasing and velvety soft vocal Spanish caresses on the sad ballad "Historia de un Amor. Ryan sings these songs beautifully and with so much passion. Her compositional strengths and music is definitely open art and should attract a loyal international following for the classic beauty.

- Paula Edelstein, Allmusic.com,
AMG Rating * * * *

VOLITION AND VOCALESE
Jackie Ryan: Passion Flower, (OpenArt Records)
Jackie Ryan has a wonderful voice. But on her Passion Flower, she also has a wonderful way with her pen. This is evident because she decided to take a song by the great tenor saxophonist, Joe Henderson, called "The Kicker" and write lyrics to it, and did she ever! Ms. Ryan is one of the new emerging singers in the jazz idiom that deserves wider recognition. Besides her unbelievable take on "The Kicker" you can hear Ms. Ryan deliver her stylistic stamp on such classics as "Lullaby of The Leaves", "Some Other Spring" and "Serenade in Blue". Keep an eye on Jackie Ryan because she will continue to emerge and surprise!

by Nathan Holloway, AllAboutJazz.com 2005