CD Reviews:
"CD PICK OF THE WEEK! ONE OF THE MOST PLEASANT AND INTELLIGENTLY CONCEIVED RELEASES OF TUNES A LA JAZZ IN SOME TIME . . . Ms. Ryan has captured the essence of ballads from 'For Heaven's Sake' to the touch of South America in 'Samba De Rei.' Her singing has many virtues, but one in particular is her tastefulness. There is nothing trivial about her singing. She is, to quote an often-used phrase, a 'musician's musician.' Among my favorites on this release are 'Black Coffee,' 'I Concentrate on You,' 'Comes Love,' and 'Someone to Light Up My Life.' This BluePort release marks a return to lyricism, grace, and melodic beauty in jazz. SINCE ELLA, SARAH, AND CHRISTY HAVE BEEN GONE, THERE HAS BEEN A VOID IN JAZZ SINGING. MS. RYAN CHANGES THAT. Just remembering Ms. Vaughan's recording of 'Words Can't Describe,' her singular power of sensuality is captured once again by Ms. Ryan."

- Johnny Adams, The Monterey County Post, KNRY and KIEZ Radio, (March 22, 2001)



AFTER READING JIM MEROD'S LAUDATORY LINER NOTES TO JACKIE RYAN'S CD, I THOUGHT TO MYSELF THAT SHE'D HAVE TO BE ONE HELLUVA SINGER TO LIVE UP TO THAT KIND OF PRAISE. WELL, WHEN ALL IS SAID AND DONE AND THE SMOKE HAS CLEARED ... SHE IS! . . . It starts with the voice, unusually warm and often dusky but with remarkable range, enabling her to employ any stratagem from a whisper to a roar . . . She sings with emotion that sounds more honest than affected, which (to me) is one of the marks of a superior vocalist. Another is respect for a lyric, letting the song tell the story without needless hyperbole, which Ryan does, starting with a wonderfully moving rendition of 'Someone to Light Up My Life.' She shows her proficiency in Spanish and Portuguese on 'Caminhos Cruzados,' 'Cuando Vuelva tu Lado' (What a Difference a Day Made) and 'Samba de Rei.' For pure emotion there's Cole Porter's 'I Concentrate on You,' 'Black Coffee' or the lovely 'For Heaven's Sake,' for sheer fun and high spirits, 'Comes Love,' Ellington/Strayhorn's 'You Better Know it' or the playful finale, 'What a Little Moonlight Can Do.' The San Francisco-based Ryan, of Mexican-Irish descent, looks as good as she sings, which is beside the point but can't hurt her career chances, as that seems to be an important criterion these days when appraising female Jazz vocalists. What matters most, however, is that Ryan is an excellent singer with an unerring sense of time and a singular use of dynamics . . . "For Heaven's Sake" is a splendid showcase for her talent."

- Jack Bowers, All About Jazz (allaboutjazz.com/reviews)



JACKIE RYAN "For Heaven's Sake"
with the Mike Wofford Trio
(BluePort #BP J004)
Jackie Ryan's Debut Live CD
Street Release Date: February 2001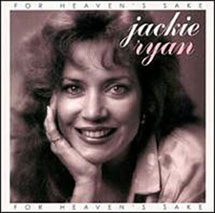 Jackie Ryan's rich voice has been compared to Sarah Vaughan, Betty Carter and Morgana King. She sings fluently in several languages and has performed all over the world to critical acclaim. On this, her first live recording, she is joined by The Mike Wofford Trio. A fitting choice, Mike Wofford was Sarah Vaughan's and Ella Fitzgerald's accompanist for over ten years.
Song List (Click on title with * for audio clip in MP3 format):
Personnel*
Jackie Ryan (Vocals)
Mike Wofford (Piano)
Rob Thorsen (Bass)
Duncan Moore (Drums)

* The musicians featured here have their own CDs and/or are featured on other CDs. Please look up their websites or names and please do support their music.
---
"RYAN POSSESSES AN EARTHY VOICE - BRIMMING WITH PASSION AND EXCITEMENT... She and veteran pianist and accompanist, Mike Wofford, go at it on this session. They swing and burn. This fortuitous merging of zest and talent comes together on a rousing version of 'Comes Love', which opens with Ryan's voice weaving in and out of Thorsen's bass. But the intensity is not limited to up tempo romps. Ryan, with her deep voice, can be sultry and sensuous, like on 'For Heaven's Sake'. This is one of many gems on the play list of standards and lesser known classics.
"Encouraged by an appreciative and enthusiastic live audience, Ryan and the Wofford Trio go above and beyond the call of duty with a masterful performance that is guaranteed to maintain the attention of jazz vocal devotees. This is Ryan's debut live album and given the excellent outcome, one hopes more will be forthcoming. Go buy this one - you'll like it!"

-Dave Nathan, All About Jazz



"A FANTASTIC VOICE! . . . On this release, Ryan is accompanied by the Mike Wofford Trio (Wofford has worked with other big names such as Ella Fitzgerald and Sarah Vaughan). The musical arrangements are subtle and sparse (the only instruments are piano, bass, and drums) . . . and this works just perfectly with Ms. Ryan's deep and sultry voice. Ms. Ryan is amazing singing in English . . . but she's even more delightful singing in Portuguese, as she does on three of the tunes." (Rating: 5)

- BabySue Jazz Review, Decatur, Georgia (March, 2001)



"A classically styled jazz vocalist who knows how to run with the ball, Ryan is right on the money. With a samba heavy set card to make it all warmer, this is one of those records made for jazz lovers that's hard to pass by, so don't."

- Midwest Record Recap (February 14, 2001)